Zegan Ox

Information
Species:
Human
Born:
2823 AΩX
Filgaia
Age:
17 (OD)
38 (Death)
Element:
Thunder
Job Class:
N/A
Weapon:
Crystal Prism (Swallow) (Unknown - 2850 AΩX)
Grand Dream (Scythe) (2850 - 2861 AΩX)
Appearances:
Omega Destruction
Creator:
OmegaX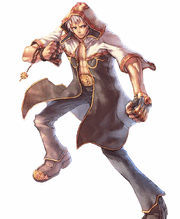 Zegan Ox (2823 AΩX - 2861 AΩX), was the youngest son of the great Zanzegan Ox better known as the Shadow Knight. After his father took control of the Congressional Knights, Zangan was appointed as one of the members of the Elite Soldiers, at that time he wielded a swallow, the Crystal Prism. After the events of Omega II: Tag Team Tournament and the murder of his father, Zegan like his brother, refused to be a part of Bass's Empire. He became a terrorist along with his brother, and wielded his brother's old swallow, the Grand Dream. In 2861 AΩX he was killed by the new Demon God of Death.
Zegan made a cameo appearance in Omega Destruction. Zegan like his brother, would also be revealed to be one of the Zodiac XIII in Omega V: Redemption, Hyrax, Scion of Lightning.
Relationships
Edit
Community content is available under
CC-BY-SA
unless otherwise noted.