Zangan Ox

Information
Species:
Human
Born:
2820 AΩX
Filgaia
Age:
20 (OD)
41 (Death)
Element:
Gravity
Job Class:
N/A
Weapon:
Grand Dream (Swallow) (Unknown - 2850 AΩX)
Grand Awakening (Scythe) (2850 - 2861 AΩX)
Appearances:
Omega Destruction
Creator:
OmegaX

Zangan Ox (2820 AΩX - 2861 AΩX), also known as the second Shadow Knight was the eldest son of the great Zanzegan Ox better known as the Shadow Knight, as well as a member of the Congressional Knights.

After Zangan's father took control of the Congressional Knights, Zangan was appointed leader of the Elite Soldiers, a high ranking group that was tasked with high profile and crucial missions for the Congressional Knight. At that time he wielded a swallow, the Grand Dream.
After the murder of his father, Zangan refused to be a part of Bass's new Empire and he took his late father's armor, and became the new Shadow Knight. He then became a terrorist and wielded his late father's scythe, the Grand Awakening.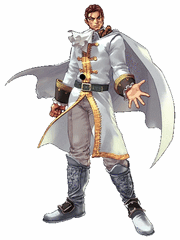 By 2861 AΩX he was killed by the new Demon God of Death.
Zangan made a cameo appearance in Omega Destruction. Zangan like his brother, would also be revealed to be one of the Zodiac XIII in Omega V: Redemption, Cyrax, Scion of Gravitation.
Relationships
Edit
Community content is available under
CC-BY-SA
unless otherwise noted.