Yusuke Nebular

Information
Species:
Human
Born:
2790 AΩX
Filgaia
Age:
50 (OD - Death)
Element:
Wind
Job Class:
None
Weapon:
None
Appearances:
Omega Destruction
Creator:
OmegaX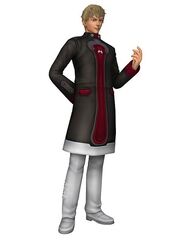 Yusuke Nebular (2790 AΩX - 2840 AΩX) was for a time the leader of the Global Union.
Storyline
Edit
Rise to Power
Edit
In 2810 AΩX Global Union leader Jurei Nebular died of a "heart attack", Jurei Nebular had been shot six times... Yusuke Nebular, who was Jurei Nebular's grandson quickly rose to power, he was also the man believed to have killed his grandfather. Yusuke was far more ruthless than his grandfather and ordered his soldiers to kill women and children associated with the Congressional Knights out of fear that the Congressional Knights were trying to create Super Soldiers.
Omega Destruction
Edit
Yusuke Nebular appeared at the restarted Chronicles of the Sword tournament, competing in it. It was revealed that he had a secret alliance with Deadpool leader Nikolai Sokolov.
In 2840 AΩX later Yusuke was assassinated by his wife.
Relationships
Edit
Community content is available under
CC-BY-SA
unless otherwise noted.