Xemgao (Unknown - 0 AΩX), is the grandfather of the Omega Series. Xemgao's appearance was kept secret for many years. He serves as the final boss of Omega VI: Revelations which is where he also makes his debut.
Xemgao is the Celestial Guardian form of Aphelion, Omega VII: Dark Delusion explains his origins as Aphelion.
Xemgao also has an alter ego, OmegaX, a human form he took after the falldown.
Storyline
Edit
Xemgao was one of the Celestial Guardians, he was the God of Suxxen, he chose to be consumed by one of the Seven Deadly Sins, Wrath, so he could help defeat the Time Devourer.
Main article: OmegaX
Main article: Omega VI: Revelations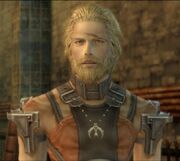 Xemgao had his memories wiped by Satan and was sent to the planet Auldrant.
Xemgao returns
Edit
Afer regaining his powers and his memories, Xemgao was killed by Tera Shinryu.
Relationships
Edit
As OmegaX, Xemgao impregnated a mortal Filgaian woman, for almost three millennia his bloodline continues to live on, in the year 2862 AΩX, Xemgao has two living descendants.
Community content is available under
CC-BY-SA
unless otherwise noted.