Toxin
Scion of Ice

Information
Number
XII
Species
Scion
Element
Frost
Sign
Pisces
Division
Oz
Gender
Female
Creature
Ancient Hare
Weapon
Killswitches (Dual Jamadhar Katars)
Appearances
Omega V: Redemption

Toxin is a member of the Zodiac XIII who are the servants of the Dragon God. She is said to have the power to freeze things beyond Absolute Zero (0 Kelvin / -273.15°Celsius / -459.67 °Fahrenheit).
Storyline
[
]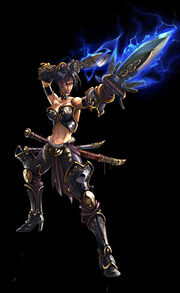 Toxin is the newest member of the Zodiac XIII who only recently joined the group.