Syphon
Information
Species:
Human
Born:
2844 AΩX
Filgaia
Age:
16 (Omega 3 TCOTE)
17 (Death)
Element:
Shadow
Job Class:
Mage
Ninja
Weapon:
Staff of Martyrdom (Bo Staff)
Swords of the Resurrection (2 Swords)
Appearances:
Omega III: The Clash of the Elements
Creator:
Oblivion Essence

Syphon (2844 AΩX - 2861AΩX), was a major anatagonist in Omega III: The Clash of the Elements.
Storyline
Edit
The Clash of the Elements
Edit
Once the right hand man of Lanacuras, the only reason he wants to resurrect Lanacuras is for his power.
When the Elementalists invaded the Shadow Guard HQ Syphon sent all his minions out to battle them, he stayed behind and ended up fighting Scythe who had snuck in from a back entrance, Syphon did not survive the battle.
Zodiac XIII
Edit
Main article: Lynx
During the events of Omega V: Redemption, Lynx revealed himself to be Syphon.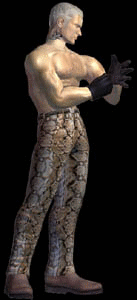 He is said to have a connection with Porto, but it is currently unknown.
Community content is available under
CC-BY-SA
unless otherwise noted.