The Seven Great Demon Gods are a group of seven Demon Gods that serve as a major plot device throughout the Omega Series.
Almost 3000 years before the start of the Omega RP, seven Celestial Guardians were banished to Filgaia, they had all become corrupted by the Seven Deadly Sins; Gluttony, Greed, Sloth, Wrath, Envy, Pride and Lust. They also had their own unique elemental powers. After 10 years of domination they were defeated. The purpose behind their corruption was revealed by Belial during the ending of Omega IV: Oblivion and is expected to go into more depth in Omega VI. Besides being banished, the remaining Celestial Guardians empowered Hannibal so that he could kill them.
Killed by Xemgao.
Beelzebub
Edit
Killed by Annihilation.
Killed by Xemtetsuken.
Belphegor
Edit
Killed by all Seven Heroes.
Lanacuras
Edit
On the blink of defeat by the Seven Heroes, he used his Mammon machine to try and absorb the Seven Heroes powers, it backfired and absorbed him. Over 2800 years later, his powers were released and absorbed by Subject 667.
Killed by Xemtetsuken and Shinryu and the rest of the Heroes.
Killed by Tera Shinryu...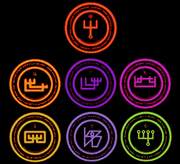 | Demon God | Color | Sin |
| --- | --- | --- |
| Azazel | Purple | Lust |
| Beelzebub | Green | Gluttony |
| Belial | Dark Blue | Greed |
| Belphegor | Yellow | Sloth |
| Lanacuras | Orange | Envy |
| Lucifer | Light Blue | Pride |
| Xemgao | Red | Wrath |
Influence
Edit
During their time, the Seven Great Demon Gods would go on to create new species.
Jects, a species not created entirely by Belial, as Humans on the planet Filgaia used her DNA to create Super Soldiers.
SAs, like Jects, they were created by Humans on the planet Filgaia with Belial's DNA.
Lanacuras
Edit
Community content is available under
CC-BY-SA
unless otherwise noted.