This article refers to the OmegaX the character. For OmegaX the creator see OmegaX (Creator).
OmegaX

Information
Species:
Human
Born:
Unknown
Age:
---
Element:
Divine
Job Class:
Unknown
Weapon:
X-Calibur Sword (Complete) (Zweihander Sword)
Appearances:
None
Creator:
OmegaX
Fusion
Xemtetsuken (+Wotan)

OmegaX (Unknown - 0 AΩX), was one of the Seven Heroes. He suffered from amnesia, upon the defeat of Lucifer, Lucifer revealed OmegaX's true identity, Xemgao, causing him to eventually become his true self... Unlike the other Heroes, OmegaX died several years earlier... in battle...
Description
Edit
During the development for Omega VI: Revelations, the OmegaX character was given the alias Ozuma, this has since been abandoned with the finalized ending of Omega V: Redemption featuring OmegaX in it briefly.
Appearance
Edit
Personality
Edit
Storyline
Edit
Main article: Xemgao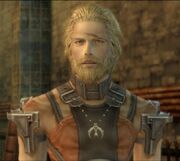 Originally a Celestial Guardian, after choosing to abandon his life life as one in order to defeat The Devourer, he along with six others infected themselves with Deadly Sins to be banished by the Celestial Guardians, they would soon become known as the Seven Great Demon Gods. However unlike the others, Xemgao entered a secret vault containing various relics,, one being the demonic Vixedin Sword which Xemgao himself had brought to the Celestial Guardians when he had ascended. Having discovered Xemgao's plan to use the sword, Satan wiped Xemgao of his memories before he was banished.
Upon being banished, Xemgao found himself alone on the planet Auldrant. Dazed and confused, Xemgao shrieked as his body began to mutate into the Desolated Angel mutation.
Relationships
Edit
Community content is available under
CC-BY-SA
unless otherwise noted.