Kaius, better known as simply Kai is the lead protagonist of alternate future chapter in Omega X: Rise Of The Champion where Kai journeys to save Samantha from the Emperor of Worlds Euclidean.
Storyline
Edit
Omega X: Chaos Theory
Edit
Kai appears in Chaos Theory, a chapter in Omega X set in an alternate future where Jet has taken over numerous worlds. Kai is trained by his mentor and foster father Alistair. Having lived in solitude since his childhood, Kai is anti-social and dislikes people.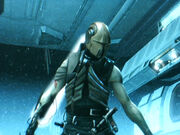 CHAOS is a sequel to Chaos Theory, set six months in the future where Ba'al revives Kai.
Chaos Rising
Edit
After the disastrous events of CHAOS, Ba'al decides to give Kai one final chance. He contacts the Kai of the regular timeline and gives him his Kai's memories, combining the two Kai's into one.
Relationships
Edit
Powers & Abilities
Edit
Kaius is naturally gifted as a result of him being half Preliator. Alistair trains him in combat his entire life in preparation to eliminate Euclidean knowing he would be unable to defeat him alone. Kaius' powers are dramatically increased after witnessing Alistair's death and grow stronger as his battle with Euclidean progresses.
Kai's default form.
Burning Chaos
Edit
Chaos Demon God
Edit
Community content is available under
CC-BY-SA
unless otherwise noted.