Damien Evanstar (2824 AΩX - 2862 AΩX), better known as simply Damien, was among the seven Elementalists, as the Time Elementalist on the planet Filgaia. After his death, he was resurrected by the Dragon God as Murmax, Scion of Chronon.
Storyline
[
]
Childhood
[
]
Damien's first memories of his life are of him walking through a forest at the age of 3 or 4, alone, and malnourished. He was soon found on the brink of death by Oberon Sunstrider, and taken back to the Dark Elf realm, where he was doctored back to full strength. Soon after the Royal Family inducted the young child in to the Royal Court as an upcoming Noble in their society. Through out the years Damien has been criticized for aligning with Dark Elves over his own kind, but the race does not matter to him. He has a bitter outlook towards humans for abandoning him for death at such a young and tender age.
The Chronicles of the Sword (2840 AΩX)
[
]
In Omega Destruction, Damien made a cameo appearance, and entered the 9th tournament of The Chronicles of the Sword (2840 AΩX), where he faced off against Jeremy Non, and lost, in round one. Weeks later, Damien would return to the restarted tournament and face off against Rouskei, but again was defeated in the tournament. Following two defeats, Damien turned to seclusion within the kingdom, to train, and exceed his former limits, and someday win glory for his Kingdom.
Sunstrider Royal Court
[
]
Damien used to be the mentor to both Drake Sunstrider and Hawk Sunstrider. After Hawk left to join Neo Brionac, and Drake vanished from the court to hunt for the missing heirloom. Damien turned to the path of seclusion and lived in the forests of Filgaia.
Clash of the Elements
[
]
A short while after the Sunstrider's left to go on with their lives, Damien was pulled into a battle against the Shadow Guard. He died during the battle with the other Elementalists when Scythe absorbed Lanacuras's powers...or so people believe
Omega V: Redemption
[
]
Main article: Murmax
Relationships
[
]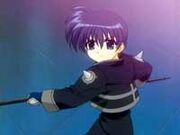 Family
[
]
Friends
[
]
Associates
[
]
Classes
[
]
Dark Knight
[
]
Job Class: Dark Knight
Weapon Type: 2h sword
Weapon Name: Fiery Heart
Necromancer
[
]
Job Class: Necromancer
Weapon Type: staff
Weapon Name: Souls of Dead
Trivia
[
]
Damien is known to have had the special skills of Eon force, epoch guard, and nova force in Omega III: The Clash of the Elements.